How Fast Can My Credit Score Come Back After Bankruptcy?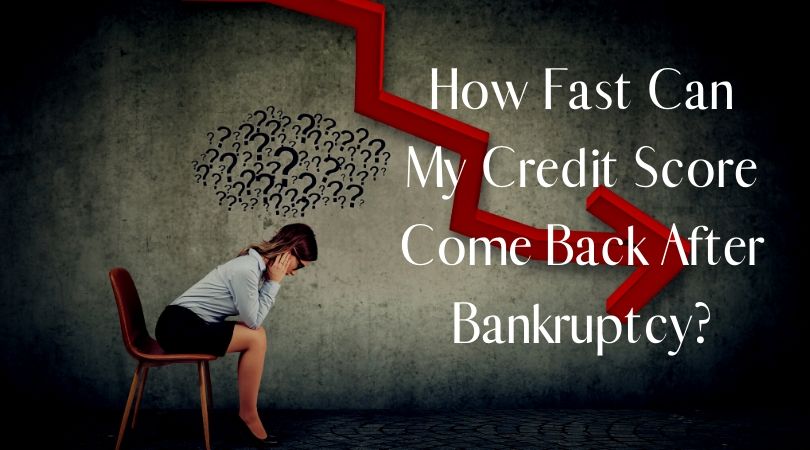 Bankruptcy can be a scary word but it also can mean freedom and relief from major stress. There are a lot of reasons why someone might choose to file bankruptcy, either a divorce or painful separation from someone that has ruined your credit, medical injuries or bills, or even job loss. Bankruptcy is nothing any of us should enter into lightly, but it may also be the best option. One of the most common questions we get is how long does it take to reestablish credit after a bankruptcy. Here are some important answers to how fast can your credit score come back after you've suffered bankruptcy.
It's important to know that bankruptcy can and probably will cause your credit score to drop dramatically. There's no way to underestimate the impact of a bankruptcy and it is one of the worst things you can do to your credit score, however, if you don't need your credit score for any other major purpose in the next few years, it may be worth it to get you out of the stress and payments of medical bills, credit card debt, or other issues that are proving just too difficult to handle on your own.
Bankruptcies can also cause long-term damage to your credit report. Any public record of a chapter 7 bankruptcy can stay on your credit report for up to 10 years. Chapter 13 or any accounts included in the bankruptcy as well as third-party collection debts, tax liens, and judgments can stay on your credit history for up to seven years.
Related: Chapter 7 Vs. Chapter 13 Bankruptcy
The good thing is that the negative impact the bankruptcy has on your credit will diminish over time. Time is definitely on your side when it comes to re-establishing your credit. Here are some key things to do to ensure that time is not only working for you but when the time comes for that bankruptcy to drop off, your credit score will skyrocket.
#1. Check your credit report frequently.
Credit reports aren't perfect and you may find errors from time to time. It's important to check your credit history after bankruptcy as scary as it may be. Just a bite the bullet and do it. Did you know that 25% of US consumers have found errors on their credit reports that may affect their score? As soon as your bankruptcy is complete make sure that the accounts that were discharged are reported as "discharged. Verify that they have a zero dollar balance and that the bankruptcy filing date is correct so that you can remove this bankruptcy as quickly as possible.
#2. Consider a secured credit card or a credit builder loan.
I know that you're thinking you just got out of debt so why would you get more in debt? But to rebuild your credit means you have to have a certain history of positive impacts on your credit, which means rebuilding credit. Get a small secured loan or credit card and pay it off every single month.
#3. Consider becoming an authorized user on someone else's account.
If you have a trusted friend or relative consider asking them to add you to their credit card account. Your credit will benefit from their positive history, as long as they have some. You can use the credit card in your name and it's a good way to rebuild your credit.
#4. Ask for the consumer credit bureaus to report any payments.
If you are making on-time payments whether it's to your car payment, student loan, or even rental payments, ask your landlord to report your monthly payment to Equifax, Experian, and/or Trans Union if possible. Of course, you can control is someone else is going to do it, but it is a step to reestablish your credit.
More: How long does it take to Increase a Credit Score?
Again, it can take anywhere from 3 to 10 years for your credit to come back depending on the type of bankruptcy you've chosen and how quickly you're willing to repair it. If you need help with any bankruptcy attorney issues or have more questions on bankruptcy in western Washington contact our office at any time.
More: