Unique and Strange Real Estate Terms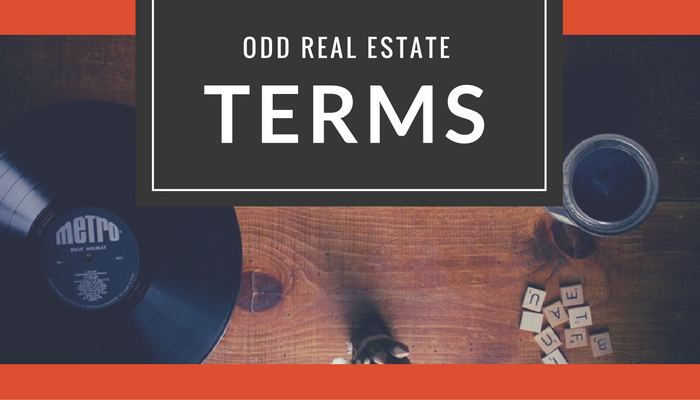 These real estate and property terms are used quite a bit but many people have no idea what they actually mean. If you're considering investing in real estate, selling or buying your first property, here are some key terms you should know.
APR – this stands for the annual percentage rate but you may also see it as APRC, which stands for the annual percentage rate of change, and is the entire total cost of the loan including interest charges and other fees. This is important to know when comparing other mortgage rates and terms.
Conveyancing – this simply stands for the legal work involved in buying and selling real estate.
Disbursements – This is the act of paying out or dispersing money, typically to the seller, real estate agents and other parties involved in a real estate transaction.
Gazumping – This odd term stands for when a seller accepts a higher price than what was previously agreed upon with another buyer. Another technical term would be to "swindle" somewhat and it's usually the seller raising the contracted price of the property after having accepted a lower offer from another buyer.
Ombudsman – Again, if any term that stands for an official or person appointed to investigate individuals complaints on behalf of customers against real estate agents, escrow companies, and insurance companies.
Vendor – This is typically used as the legal name to describe the seller of the property or the real estate.
Freehold – a freehold is ownership of the property and/or land.
Real estate agents often shorten their descriptions of a property in order to get as many characters in the description area as possible. Too many homebuyers, they may simply look like letters that mean nothing to them in actuality. Here are some of the most common abbreviations you're going to find in a real estate description.
1. BICC – Built in China Cabinets
2. Detached GH – Detached Guest House
3. FR. DRS – French Doors
4. FROG – Family Room Over Garage
5. FP – Fireplace
6. HDW – Hardwood Floors
7. Bb – Baseboard heat
8. CH/BW – Chain Link or barbed wire fence
9. d/w – Dishwasher
10. EIK – Eat-In Kitchen
Bedrooms and Bathrooms are also usually abbreviated like Bd and Ba and Living Room is sometimes shortened to LR or FM (Family Room). [Source]
Trying to keep all these terms in mind when searching through listings can be daunting but that's what I'm here for! For mortgage modification or mediation, bankruptcy attorneys or information on the Washington State Fairness Act, contact me anytime.
More:
What to Expect in a Bank-Owned Home